Corporate Specialty Insignia Advantage!
We think DIFFERENTLY in developing solutions! How are you measuring the return on investment (ROI) or effectiveness of your branding campaigns or recognition programs? Do you know that the cost per impression of promotional products is less than 1 cent? Are you up to date with trending products?
Are you informed of current safety and compliance standards and the potential negative impact an uninformed decision may have on your brand?
Our team thinks differently in our solutions to solving your branding objectives and creating employee recognitions, marrying best practices, case studies, collaboration, fostering ideas and passion for the project.
Featured Item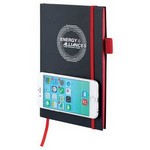 Color Pop Suction Bound JournalBook™
This exclusive design will be sure to brighten up your day and conveniently hold your smartphone with it's suction cup panel. Soft matte black cover highlights the most subtle or colorful logos. Inclu...
$5.98 - $7.53